If you are not listed, you won't be found! Directory and map listings are critical for local businesses.
At High Peaks Media, we can list your business or organization on all major directory engines.
It is very important to maintain exactly the same information on all of your listings, your social networking pages, and your website.
Posts On Directory Listings and Local Business Marketing
Local Businesses – Internet Marketing Overview
Here are two 'must read' blog posts about how local businesses can focus their online marketing efforts. Don Campbell gives an excellent overview, a 'must-do' list for local businesses just starting ...
Calls to Action in WordPress Website Headers, 2015 Theme Review
Calls to Action (CTAs) in the Header regions of Wordpress themes are reminders to customers to act: "Do This Now!". This post is a review of contemporary Wordpress themes that offer ...
Online Marketing for Therapists
This post offers online marketing strategies for massage and health therapists. It is geared towards independent practitioners and smaller practices, although the concepts apply broadly. Many people find online marketing overwhelming, ...
The FAQ Page on Your Website and Why You Should Have One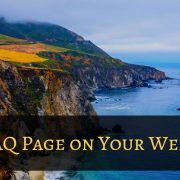 The FAQ Page on Your Website and Why You Should Have One
Business Listings – Google, Yahoo, Bing, Apple, and Facebook
Places listings are FREE, and will benefit all local businesses. Here's where to get started: Google Places for Business Yahoo Small Business Bing Places for Business Apple Maps Connect Facebook also serves as an excellent ...
My Business is New, What do I Do? The Foundations of Online Marketing
You have just started your business, and you want to establish your online presence. Where do you start? In this post, I describe the foundations of your online presence. There is ...
How Is Your Business Listed on Local Directories?
See how your business is listed on local directories and search engines, using Yext, Yahoo, or Express Update. Yext provides a free review of your listing status. While Yext is a powerful ...
Scrolling Panoramas for Your Website
Use your cursor or scroll with the controls at lower left. Have fun! Mountain Man Outdoor Store, Nederland Image taken with Google Street View App on an iphone; JPG downloaded from Google photos Plugin: ...
The 10 Most Popular Local Directories
A survey of the top 20 categories in the top 20 US cities came up with this list of the top 10 review sites for local listings: Yelp CitySearch InsiderPages Yahoo Local DealerRater JudysBook TripAdvisor Edmunds Zagat.com OpenTable (This information is ...
Google Places – How Do I Get My Business Listed?
Every business should claim their Google Places listing. It's free, and it's how you appear on Google maps, with all your important business information – location, hours of business, etc. So ...