If you are not listed, you won't be found! Directory and map listings are critical for local businesses.
At High Peaks Media, we can list your business or organization on all major directory engines.
It is very important to maintain exactly the same information on all of your listings, your social networking pages, and your website.
Posts On Directory Listings and Local Business Marketing
Booking Engines for Small Hotels and Lodges
Update on Jan. 8, 2016. Little Hotelier offers a very competitive package, and I have added a new free booking engine to the list, WP My Bookings. Some good booking engines ...
The 10 Most Popular Local Directories
A survey of the top 20 categories in the top 20 US cities came up with this list of the top 10 review sites for local listings: Yelp CitySearch InsiderPages Yahoo Local DealerRater JudysBook TripAdvisor Edmunds Zagat.com OpenTable (This information is ...
Google Business and Map Listings
Service vs. Storefront Business on Google Maps Google distinguishes between businesses with a storefront (e.g. retail and restaurants) and those that offer services off-site at a client's location (e.g., builders and ...
How to Solicit Online Reviews for Your Business
Online reviews from customers and clients strongly affect online marketing efforts. Unfortunately, disgruntled or unhappy customers are more likely to leave reviews than are happy and satisfied customers. Therefore … Take ...
Outsourcing Tips, from James Wedmore James Wedmore has created a brilliant 5-video You Tube series, outlining the basics of outsourcing. Here's the first (the others should pre-load): What to outsource? What bogs you down. What you should be ...
21 Shoestring Marketing Secrets from Manta The 21 Shoestring Marketing Secrets from Manta is a handy reference for small business owners. What's required? A relatively small Budget, Commitment, Patience, Branding, Consistency, Visibility, Customer-Focus, Quality, strong Relationships, Automation, ...
The FAQ Page on Your Website and Why You Should Have One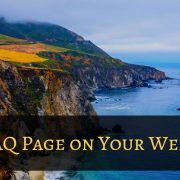 The FAQ Page on Your Website and Why You Should Have One
Online Advertising on Nederland Colorado Websites
Nederland CO Websites Opportunities for online advertising on local Nederland CO websites (see below for information on Colorado directory listings with a local presence). The Mountain Neighbor and The Mountain Pages The Mountain Neighbor ...
Google Places – How Do I Get My Business Listed?
Every business should claim their Google Places listing. It's free, and it's how you appear on Google maps, with all your important business information – location, hours of business, etc. So ...
Google Places Category Tool by Blumenthals
A well kept secret for identifying the appropriate categories for your Google places listing: http://blumenthals.com/index.php?Google_LBC_Categories Thank you Blumenthals! Also see the Moz category list: https://moz.com/local/categories