We build websites to suit the needs of small businesses and organizations. Our sites are built on the Wordress content management system (CMS). WordPress sites are readily tailored and easily accessible to business owners and site managers. See our portfolio of sites.
High Peaks Media websites are search-engine optimized (SEO) and include security plugins, automated off-site backup, Google Analytics, contact forms, blog capacity, etc.- see services.
All websites are responsive for viewing on mobile phone and tablets – see testing for responsive site design.
WordPress themes provide the distinctive flavors and styles of different sites. Our sites are based on themes such as Weaver Xtreme, Divi, Enfold, Impreza, and Be Theme.
Related Links
Website Components
Posts on WordPress and Website Design
Jazzy Forms, an Online Form Generator Plugin
The Jazzy Forms Wordpress plugin will create an online interface to send an email to a specific person, or will generate a simple calculation from inputted parameters. For example, the Jazzy ...
Health and Wellness Check for Your Website
Websites require periodic maintenance and review. First, is your website functioning properly? If you are a client, I take care of basic maintenance functions, such as updates to the Wordpress core, ...
Password Protect a Page or a Post on your WordPress Site
Wordpress has a built-in password-protect feature on every post and page. In the Publish options (upper right), select Visibility > Edit > Password protected, and voila, it's done! Some useful plugins ...
20 Steps to Increase the Speed of Your Website
UPDATED on March 5, 2017 (originally published on Jan 7, 2016) A fast website is critical to visitor retention, as is reported in dozens of posts on this topic. This post ...
The Challenge of Mobile Website Delivery – You Have No Idea!
Mobile Delivery: The Challenge Over half of website traffic is now on mobile phones, and yet, you may have not realize the extent of technical challenges posed by mobile delivery. I ...
Site Migration and SSL Certificate Install Notes on WordPress Installations
Site migration (cloning) and installation of an SSL Certificate on a Wordpress install both require database modifications of URLs. Plugins make migration of a site to a new domain relatively easy. Recently, I have ...
Calls to Action in WordPress Website Headers, 2015 Theme Review
Calls to Action (CTAs) in the Header regions of Wordpress themes are reminders to customers to act: "Do This Now!". This post is a review of contemporary Wordpress themes that offer ...
Outsourcing Tips, from James Wedmore James Wedmore has created a brilliant 5-video You Tube series, outlining the basics of outsourcing. Here's the first (the others should pre-load): What to outsource? What bogs you down. What you should be ...
WooCommerce Customizations
WooCommerce offers a stable and multi-faceted platform for eCommerce applications. Hundreds of plugins and customizations are available. Here are some of my favorites (i.e., those I find useful!). I have installed ...
The FAQ Page on Your Website and Why You Should Have One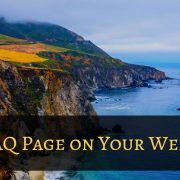 The FAQ Page on Your Website and Why You Should Have One