We build websites to suit the needs of small businesses and organizations. Our sites are built on the Wordress content management system (CMS). WordPress sites are readily tailored and easily accessible to business owners and site managers. See our portfolio of sites.
[jbutton size="large" color="blue" link="https://www.highpeaksmedia.com/websites/website-portfolio/"]See Our Portfolio Here[/jbutton]
High Peaks Media websites are search-engine optimized (SEO) and include security plugins, automated off-site backup, Google Analytics, contact forms, blog capacity, etc.- see services.
[jbutton size="large" color="blue" link="https://www.highpeaksmedia.com/services/services-summary/"]See Our List of Services[/jbutton]
All websites are responsive for viewing on mobile phone and tablets – see testing for responsive site design.
WordPress themes provide the distinctive flavors and styles of different sites. Our sites are based on themes such as Weaver Xtreme, Divi, Enfold, Impreza, and Be Theme.
Related Links
Website Components
Posts on WordPress and Website Design
Rename the Coupon Code Text in Woocommerce
I recently needed to replace the Coupon Code wording in a Woocommerce store, from "Insert  your Coupon Code" to "Insert your Membership Code". I used some code posted on Grahame ...
Managing your WordPress Website in 2019
There was a time, when websites were static and more stable, and the internet was safer and more forgiving. That time is over! Websites are now built on dynamic and ...
Scrolling Panoramas for Your Website
Use your cursor or scroll with the controls at lower left. Have fun! Mountain Man Outdoor Store, Nederland Image taken with Google Street View App on an iphone; JPG downloaded from Google photos Plugin: ...
The Future of Google Search Results and WordPress SEO
Google Search Engine Result Pages (SERPs) Google Search results are increasingly varied, appearing for example as 'rich snippets' of information extracted from websites, news, shopping options, related searches, and detailed data ...
The FAQ Page on Your Website and Why You Should Have One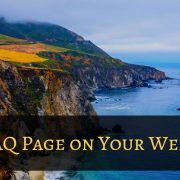 The FAQ Page on Your Website and Why You Should Have One
Add Voice Messaging to your Website Using SpeakPipe
Now customers can leave you a voicemail, using SpeakPipe. A free account gives you up to 20 messages per month and a maximum message length of 90 seconds. The recording ...
The Challenge of Mobile Website Delivery – You Have No Idea!
Mobile Delivery: The Challenge Over half of website traffic is now on mobile phones, and yet, you may have not realize the extent of technical challenges posed by mobile delivery. I ...
Improving Website Security with Automated Updates
"At the end of the day, no matter how fast hacks evolve, the best way to combat them is still through regular updates." The best way to keep your Wordpress website ...
How to Migrate a WordPress Website to a New Server (Same or New Domain)
Migrate using a Migration Plugin You can use the following procedure to migrate a Wordpress website to a new server or a new domain (on the same or another server). In ...
Custom Login and Redirect Plugins for WordPress
Custom Wordpress login forms and redirect plugins add functionality on websites where visitors are creating user accounts, for example on membership, ecommerce, and directory sites. Here are is a list ...