Blogs serve many functions. They provide updates about products and services, they add relevant content  to your website, and they boost your rankings in search engine results. Blog posts also provide excellent material for email broadcasts and posts on social media pages.
Statistics show that businesses that post often also attract more customers. Blogs make your site more compelling to customers and clients, and the fresh content drives traffic to your site.
Content marketing is most effective when you identify all possible keywords (and keyword phrases) that a potential customer might search for, and then use those keywords in your posts.
Use tools such as the Ubersuggest Keyword Selection Tool, the Google Adwords Keyword Tool, Market Samurai, Ad Intelligence, Keyword Spy, SEMrush, and Keyword Discovery for generating a keyword list.

Also see Search Engine Optimization on this site.
Image Credit: Image by Cortega9, This file is licensed under the Creative Commons Attribution-Share Alike 3.0 Unported license
Posts on Blogging and Content Marketing
How to Find Where Space is Used on Your Hard Drive
Is your hard drive on your computer nearly full? Are you not sure what is taking up so much space? WinDirStat provides all the information you need, to determine what ...
5 Questions You Must Ask Your Customers
Manta.com just published a great post with 5 questions you must ask your customers – knowing your customer base is critical to successful marketing, and most of us don't do ...
Creative Commons Licensed Images
Updated: March 22, 2017 (originally published Dec 14, 2013). Here are some sources of creative commons images (free to use). You should always provide an attribution to the image, which ...
What is the Number One Rule of Content Marketing? What is the number one rule of content marketing? "Put yourself in the shoes of the audience the content is targeted to. Is it important to them? Is it useful? ...
The FAQ Page on Your Website and Why You Should Have One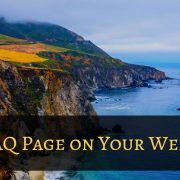 The FAQ Page on Your Website and Why You Should Have One
Tutorial Marketing
The new paradigm is, "Don't Sell … Teach". It's hard to grasp, and even harder to embrace, but this is what's happening in the online marketing world. Check out this ...
How to Optimize Blog Posts for Social Media Sharing
The 7 Ways to Optimize Content for Social Media Sharing from Hubspot is a must read for anyone sharing their website content on social media sites. The tips provide short, ...
ColoradoTOWN.com – How To Build Links and Great Content
This organization/business, ColoradoTown.com,  is an example of great internet marketing – the site has an extensive network of back links pointing to it, and the site itself provides an extensive ...
25 Ways to Drive Traffic to Your Website
Every so often a fantastic resource catches my eye, and this is one of them. Image media partners has posted a comprehensive list of strategies to drive traffic to you ...
Marketing Quotes – For Inspiration and Ideas!
Hubspot's 101 marketing quotes is a great collection. Check 'em out: 101 Awesome Marketing Quotes View more presentations from HubSpot Internet Marketing