Domain names must be registered and websites must be physically hosted on a server.
Domain Name Registration
Domains should be registered in the business owner's name, under their email address. You own it, you control it.
We use Namecheap for most of our domain name registrations, based on the low cost and reliable service. We are an affiliate for this provider. We also recommend Hover for low-cost domain name registrations and free whois privacy service. Many other options are available, including Google domains (in beta).
To track availability of a domain name that has already been registered, use GoDaddy's Backorder service, that will track a domain until it becomes available; the cost is very reasonable.
Website Hosting
High Peaks Media offers free hosting to clients on a shared hosting account with solid state drives and Turbo servers that perform up to 20x faster (with size and bandwidth limits). The free hosting is fast, reliable, and adequate for most small business sites (a surcharge is added for large websites).
For individual business accounts, we currently recommend A2 Hosting, Site Ground, Digital Ocean, and WP Engine (in roughly increasing cost) (all with CDN-based hosting options).
The hosting services above are highly acclaimed among WordPress bloggers; e.g., see the 2016 WordPress Hosting Review from Shoutout, WhoIsHostingThis hosting reviews, and reviews on Web Hosting Geeks. Some bloggers suggest that you avoid hosts owned by EIG.
We are a reseller for A2 Hosting, Site Ground, and Hostgator.
Hosting packages are tiered, and include (from approximately least to most reliable/quick/expensive), products such as:
Shared
Shared cloud
VPS
Dedicated
SSD
Dedicated cloud
Private virtual cloud
See the post, Varieties of Hosting Products: Shared-VPS-Dedicated-Cloud-SSD.
Domain Management Posts
How and Why to Depersonalize Google Search Results
Did you know, the Search Results you see on Google (and other sites) are BIASED by your past browsing history. What YOU see is not the same as what OTHERS ...
The Future of Google Search Results and WordPress SEO
Google Search Engine Result Pages (SERPs) Google Search results are increasingly varied, appearing for example as 'rich snippets' of information extracted from websites, news, shopping options, related searches, and detailed data ...
See How your Website is Ranked and Positioned by Search Engines
The position of a website on search result pages depends on A good match between the keywords people are using to find the site, and the presence of those keywords on ...
How to Create Facebook Tabs
Here are a few easy-to-use applications for creating Facebook tabs, such as the tabs below that I created for the Hotel Pomra Facebook page. To see all the tabs, you ...
Kathmandu Restaurant – Our Newest Website
The Kathmandu Restaurant website is the newest addition to our portfolio. An elegant full-page image greets the visitor  The website is secure (https:) and relatively fast loading (due to delivery ...
Hashtag Help #HashtagHelp
Hashtags–you gotta love 'em … here are the results of a recent foray into the world of social media hashtags, which are used on Twitter, Google+, Facebook, and many other ...
How Much Should You Spend on Internet Marketing?
Many small business owners would like to know: How much should I spend on internet marketing, as compared to other forms of marketing (print media, etc.)? Fortunately, surveys have been conducted to ...
Custom Facebook Website Audiences
Create a Custom Facebook Audience for your Website! The audience consists of visitors to your website who are also on Facebook – this audience is set up so that you can target these ...
The Ubersuggest Keyword Selection Tool
Ubersuggest gives you long tail keywords based on real user inquiries. It's a great SEO tool; use it to revise the text on your website, in conjunction with Google Analytics ...
The FAQ Page on Your Website and Why You Should Have One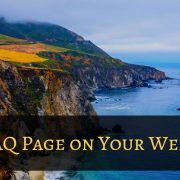 The FAQ Page on Your Website and Why You Should Have One