Calls to Action in WordPress Website Headers, 2015 Theme Review
Calls to Action (CTAs) in the Header regions of Wordpress themes are reminders to customers to act: "Do This Now!". This post is a review of contemporary Wordpress themes that offer ...
Scrolling Panoramas for Your Website
Use your cursor or scroll with the controls at lower left. Have fun! Mountain Man Outdoor Store, Nederland Image taken with Google Street View App on an iphone; JPG downloaded from Google photos Plugin: ...
Free Website Security Certificates from Lets Encrypt: HTTPS is the New Normal
Business owners, consider installing a security certificate on your website! Here's Why Starting in 2017, Google's Chrome web browser will begin tagging websites that are not secure (http:) with the note, ...
Kathmandu Restaurant – Our Newest Website
The Kathmandu Restaurant website is the newest addition to our portfolio. An elegant full-page image greets the visitor  The website is secure (https:) and relatively fast loading (due to delivery ...
The Challenge of Mobile Website Delivery – You Have No Idea!
Mobile Delivery: The Challenge Over half of website traffic is now on mobile phones, and yet, you may have not realize the extent of technical challenges posed by mobile delivery. I ...
Health and Wellness Check for Your Website
Websites require periodic maintenance and review. First, is your website functioning properly? If you are a client, I take care of basic maintenance functions, such as updates to the Wordpress core, ...
Amazon S3, Glacier, and Cloudfront User Interface Options
Amazon web services (AWS) provides management consoles for its S3 (simple storage service), Glacier (deep storage), Cloudfront (streaming), and other services that are satisfactory for cursory use, but are not well suited for extended ...
Add Voice Messaging to your Website Using SpeakPipe
Now customers can leave you a voicemail, using SpeakPipe. A free account gives you up to 20 messages per month and a maximum message length of 90 seconds. The recording ...
What Makes a Website Aesthetically Pleasing?
"When people rate a site as aesthetically pleasing they are responding to two main factors: that it is orderly, and that it is just a little bit unique: Lavie & Tractinsky, ...
The FAQ Page on Your Website and Why You Should Have One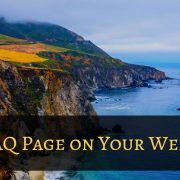 The FAQ Page on Your Website and Why You Should Have One