Search engine optimization requires "optimizing" your site to contain keywords that a potential customer would use to find you. However, your site must also rank for those keywords, so that it appears near the top of search result pages.
In short, your website should be  search engine optimized to:
(1) Contain keywords that are commonly searched for (high traffic volume), but also represent a distinctive market niche (low competition).
(2) Receive a high page ranking (PR) by the search engines, in comparison with competitors' sites. Page ranking depends on factors such as age of the site, the numbers of high-quality backlinks to the site, and site performance. See the post, How Your Website is Ranked and Positioned by Search Engines for more info on page ranking.
At High Peaks Media, we conduct keyword research to determine the keywords that are most searched for by your target audience, and then add those keywords to your site in a way that optimizes search engine results. Also see Blogging and Content Marketing.
See the Definitive Search Metrics 2013 Ranking Factors Guide – Click Here
Image credit: Image by OpenClips, License: CC0 Public Domain / FAQ,Free for commercial use / No attribution required
Posts on Search Engine Optimization (SEO)
Kathmandu Restaurant – Our Newest Website
The Kathmandu Restaurant website is the newest addition to our portfolio. An elegant full-page image greets the visitor  The website is secure (https:) and relatively fast loading (due to delivery ...
The FAQ Page on Your Website and Why You Should Have One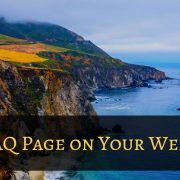 The FAQ Page on Your Website and Why You Should Have One
Webmaster Tools on Google and Bing
Webmaster Tools are key for verification of your site with the various search engines. Here's how, or let us help you. Google Webmaster Tools At Google Webmaster Tools (click here), you must first ...
Internet Marketing in Nederland, Colorado
High Peaks Media is an internet marketing business with offices near Nederland, Colorado. Interestingly, High Peaks Media does not appear very close to the top of search results for 'internet marketing Nederland ...
25 Ways to Drive Traffic to Your Website
Every so often a fantastic resource catches my eye, and this is one of them. Image media partners has posted a comprehensive list of strategies to drive traffic to you ...
Google Business and Map Listings
Service vs. Storefront Business on Google Maps Google distinguishes between businesses with a storefront (e.g. retail and restaurants) and those that offer services off-site at a client's location (e.g., builders and ...
Website Design for Search Engine Optimization
To optimize website design for search engine results, (1) Identify ranking factors that are currently important in search engine algorithms (e.g., see Search Metrics 2013 Rankings Report), and (2) Test your website (or ...
The Ubersuggest Keyword Selection Tool
Ubersuggest gives you long tail keywords based on real user inquiries. It's a great SEO tool; use it to revise the text on your website, in conjunction with Google Analytics ...
Grade Your Blog, or Website!
Grade your blog or website with Hubspot's BlogGrader. Your site is graded on a 0-100 point scale, with an itemized list of strong points and weak points. Try it: here: http://bloggrader.com/
Website Performance and Optimization Tools
Several excellent website performance and optimization tools are available. GTmetrix.com provides a comprehensive performance tool. Google Page Speed Tools: Analysis and Optimization. The ET post How to Improve your Google Page Speed ...